high temperature anti corrosion impact chemical wear abrasion resistant coating epoxy compound
used in Anhui Jinanmining ball mill chute,magnetic separation chutes repairing and protecting
Anhui Jinan mining is located in anhui province,huoqiu county fengjin town,the wear abrasion resistant protective engineering is including Jinan mining 
dressing plant ball mill chute,classifier engine room/cabin body,chute,magnetic separator chute etc.ball mill chute has serious erosive wear of suffering ore pulp
for a long time,it appeared slurry leakage and extruded joint mortar phenomenon,it affects the rate of flow for slurry entering into the classifier engine body,
classifier cabin body suffers scour and grind from ore pulp for a long time,it has serious abrasion,cabin body steel plate is attenuation,it affects classifier normal
working life,the ore pulp do the magnetic separation operation through feeding hopper flowing into the cell body,magnetic separation feed box suffers scour from
ore pulp for a long time,it has serious abrasion.
In December 2015,they decided to do the wear abrasion resistant treatment for the above part during jinan mining overhaul,they use the material of BD705
anti wear abrasion corrosion resistant coating from Xiangyang City Hundred Shield Coating Material Co.,Ltd.The quantity is 4 tons.BD705 anti corrosion wear abrasion resistant coating has excellent bonding force to metal substrates,the wear resistant performance is about 2 times more than the metal,can completely
satisfy the above erosive wear working condition.After entering into the site through safety training,do the cleaning up and polishing treatment for the
pending-repair parts first,then do the coating operations.Due to the construction inconvenience of the low temperature,the time of construction period is tight
for overhauling,equipment whole heating condition is not allowed,using material whole heating mode,choose the tarpaulin to surround into the tent shape.
After make the pending-use BD705 anti corrosion abrasion resistant coating,a set of 3 kw fan heater and 2 sets of 2 kw electric furnace put together into the
well surround tent,It is OK after the temperature rising to 50-60 temperature,we could collocate adhesive and select the material according to the schedule
during construction.A bucket is packed in 20Kg,mix A and B two components,stir them uniformly with electric blender,smear it on the surface of abrasion part.
This time master zheng (13995709118),together with another 3 people,go to the jinan mining to do the anti abrasion wear resistant protection construction
operations,it takes them about 6 days to finish the construction,after finishing the project,it passed the acceptance check from the equipment minister of Jin'an
mining dressing plant,operation department and the factory director.
Construction application photos of our BD705 anti abrasion corrosion resistant coating epoxy wearing compound: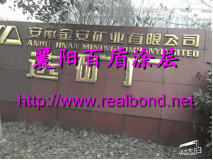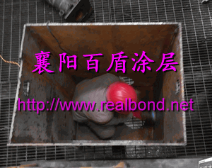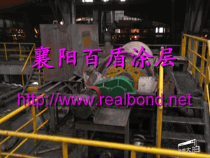 Product packaging actual picture of BD705 anti corrosion wear abrasion resistant repair epoxy coatings: